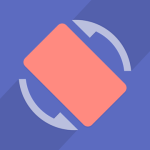 Rotation is a tool to manage device orientation. It offers all modes supported by Android and can be set according to apps or various events such as call, lock, headset, charging and pairing. Let's try it out to explore its other features. If you are a person who usually only uses a single app on your phone, the app will be able to support your maximum. By accessing the app, you will be able to lock the screen orientation in one direction and exit the app. Then your work will be easy to get started with the app you need to use, and you will stay at one address as managed before. With each different app, you'll force it to follow the direction you've set before, so you won't run into any nasty issues when you use it. But for those who often switch between different apps on the phone, the app will give them another reasonable solution. You will then be able to access the app and configure how other apps behave on your phone screen.
One of the points to mention when using Rotation | Without a doubt, Orientation Manager will be the most necessary variety because the application has prepared a large number of formats for different screen orientations. So you can preview and choose accordingly for each app, from allowing apps to change orientation when the phone is rotated to portrait lock, reverse portrait lock, landscape lock, reverse landscape lock and many more. In addition, you will also be able to use other cool features such as widgets. This is one of the features that many users appreciate because of the overview and convenience it brings to them. You will now be able to see the necessary phone screen orientation information from the home screen without having to access the app in order to manage your device.
+ Auto Rotate On • Auto Rotate Off
+ Forced Auto Rotate • Forced Portrait • Forced Landscape
+ Reverse Portrait • Reverse Landscape • Sensor Portrait • Sensor Landscape
+ Forced Full Sensor • Current Lock – Current Orientation Lock
+ Call orientation • Lock orientation • Headset orientation
+ Load Orientation • Dock Orientation • Application Orientation
+ Event Priority: Customizable event preference in case two or more events occur simultaneously.
+ A dynamic theme engine with background-aware functionality to avoid visibility issues.
+ Start on boot • Notification • Vibration and more.
+ Widgets, shortcuts and notification tiles to perform various operations.
+ Rotation extension to automate 40+ actions via Locale/Tasker plugin.
+ Quick settings to configure the main functions at once.
+ Dedicated support section for general troubleshooting.
+ Perform backup and restore operations to save and load application settings.
Supported Android
(4.1 and up)
Jelly Bean (4.1 – 4.3.1),KitKat (4.4 – 4.4.4),Lollipop (5.0 – 5.1.1),Marshmallow (6.0 – 6.0.1),Nougat (7.0 – 7.1.1),Oreo (8.0 – 8.1), Pie(9.0), Android 10, Android 11
Download Rotation Orientation Manager 24.4.0 Pro APK Mod