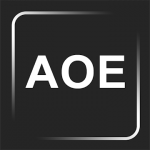 With AOE you can personalize your phone from many aspects and make it unique like you.
It contains too many functions with detailed options, so it can be customized as you prefer, here are some of the main functions:
+ It can be customized to work very flexibly within the always-on-screen or standalone system, or even both, such as the tap-to-light function.
+ You can customize the lighting color and style distinctively for each application and also for each contact or account name.
+ with a block list to prevent you from turning on notifications received from a particular person.
+ On the contrary, you can ignore all notifications from an app except those from a person you care about, so it will light up just for them.
+ In addition, you have many options to restrict your work, such as preventing the application from turning on if the device is charging, the battery is low or at the time of suspension with more detailed control options.
+ Ambient display clock while screen is locked along with other widgets like notification icons, preview panel and battery status.
+ those widgets are displayed alongside edge lighting or independently while the device is locked.
+ smooth live wallpapers animated by code.
+ Various categories of backgrounds with unique animations like nature, romantic, technical and many other categories
+ customizable images and colors.
Supported Android
(4.1 and up)
Nougat (7.0 – 7.1.1),Oreo (8.0-8.1), Pie(9.0)
Download Always On Edge Not Only LED! 6.3.2 Premium APK