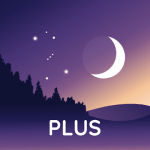 Stellarium Plus + Star Map is a planetarium app that shows exactly what you see when you look at the stars.
Identify stars, constellations, planets, comets, satellites (such as the ISS) and other deep sky objects in real time in the sky above you in just a few seconds, simply by pointing your phone at the sky!
+ See an accurate simulation of the night sky of stars and planets for any date, time and location.
+ Reach the limit of knowledge by diving into a massive collection of stars, nebulae, galaxies, star clusters and other deep sky objects:
+ All known stars: Gaia DR2 catalog of more than 1.69 billion stars
+ All known planets, natural satellites and comets, and many other minor objects in the solar system (10k asteroids)
+ Most popular deep sky objects: a combined catalog of more than 2 million nebulae and galaxies
+ Nearly limitless zoom on high-resolution images of the Milky Way, Deep Sky Objects, or planetary surfaces.
+ Discover how people living in other regions of the planet see the stars by selecting the shapes and illustrations of the constellations of many celestial cultures.
+ Tracking of artificial satellites, including the International Space Station.
+ Simulate the landscape and atmosphere with realistic sunrise, sunset and atmospheric refraction.
+ Discover the 3D representation of the main planets of the solar system and their satellites.
+ Observe the sky in night mode (red) to preserve your eyes' adaptation to darkness.
+ Observe in the field, even without an internet connection, with a "reduced" data set: 2 million stars, 2 million deep sky objects, 10k asteroids.
+ Control your telescope via Bluetooth or WIFI: control any GOTO telescope that supports NexStar, SynScan or LX200 protocols.
+ Prepare your observing sessions using advanced observing tools to predict the observability of a celestial object and transit times.
Supported Android
(4.1 and up)
Marshmallow (6.0 - 6.0.1),Nougat (7.0 – 7.1.1),Oreo (8.0-8.1), Pie(9.0)
Download Stellarium Plus Star Map 1.8.0 Mod APK Sap