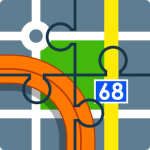 An ultimate navigation app for all outdoor enthusiasts + hikers, mountain bikers, mountaineers, trail runners, or geocachers. And not only for them, Locus Map Pro is also widely used by professionals + explorers, travelers, or rescue squads around the world.
+ advanced navigation capabilities, compatible with online and offline routing services
+ unprecedented choice of premium online and offline maps
+ advanced map tools + map overlays, offsets, WMS font support
+ 24/7 world weather forecast
+ turn-by-turn voice navigation with online / offline routing services support
+ direct guidance to a point (on the map or by compass) or along a route with notifications
+ multi track recording + profile
+ graphs and statistics
+ audio coach for efficient workouts
+ external sensors support Bluetooth / ANT + + HRM, speed / cadence, GPS, NMEA
+ route planning and editing tools
+ customizable bike computer board
+ creation of own database + filtering, search, classification
+ import / export in many formats, web services support
+ LoPoints + OSM POI database
+ map overlay, calibration and offsets
+ support of various external map formats and coordinate systems
+ support geotagged photos, OSM notes
+ online and offline directions
+ W3W addresses
+ LoPoints, GeoNames, GNS and Wikipedia
+ downloading geocaches through the Geocaching4Locus plugin + on
+ online and offline registration
+ support for waypoints, PocketQuery, trackables, spoilers
+ graphing and calculation tools
+ private or public exchange / monitoring of the + location in + real time
+ parking assistant, world weather forecast, QR code generator ...
Supported Android
(4.1 and up)
Lollipop (5.0 - 5.1.1),Marshmallow (6.0 - 6.0.1),Nougat (7.0 – 7.1.1),Oreo (8.0-8.1), Pie(9.0)
Download Locus Map Pro Navigation 3.56.5 APK Paid
Locus_Map_Pro-v3.56.5_build_1057-armeabi-v7aarm64-v8ax86x86_64.apk