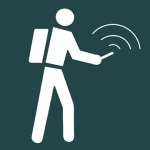 The perfect companion for your next outdoor adventure. Search, find, record and go home with Handy GPS.
This app is a powerful navigation tool designed for outdoor sports like hiking, walking, hiking, mountain biking, kayaking, boating, horseback riding, geocaching. It is also useful for surveying, mining, archeology, and forestry applications. It is easy to use and works even in the most remote countries, as it does not require network connectivity. It allows you to work in UTM or lat / lon coordinates so you can even use it with your paper maps.
+ Data can be imported and exported to KML and GPX files.
+ Allows manual entry of waypoints in UTM, MGRS and lat / lon coords.
+ It has a compass page that works on devices with magnetic field sensors.
+ Automatically calculates local geoid offset to improve altitude accuracy
+ Shows GPS satellite locations and signal strength graphically.
+ Can display simple or MGRS grid references.
+ You can calculate the distance and direction from one waypoint to another.
+ Developer thoroughly tested on many backcountry hikes
+ No ads
+ Unlimited number of waypoints and track log points.
+ Email or SMS your location to a friend as a clickable map link.
+ Email your waypoints and tracklogs as a KML or GPX file.
+ UK grid references with two letter prefixes can be displayed if OSGB data is selected.
+ Elevation profile.
+ Average GPS mode.
+ Photos with geotags and / or that the coordinates and bearing are "recorded" in the image.
+ Sunrise and sunset times.
+ Export data to CSV file.
+ Calculate the change in length, area, and elevation of the tracklog.
+ Calculate calories.
+ Optional background image.
+ Optional location sharing on the web.
+ Spoken direction and distance guide on the Go to page.
Supported Android
(4.1 and up)
Jelly Bean (4.1 - 4.3.1),KitKat (4.4 - 4.4.4),Lollipop (5.0 - 5.1.1),Marshmallow (6.0 - 6.0.1),Nougat (7.0 – 7.1.1),Oreo (8.0-8.1), Pie(9.0)
Download Handy GPS 37.9 APK Paid