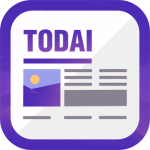 This application allows you to read, listen, watch daily news and practice JLPT reading for free with NHK NEWS WEB EASY, CNN, MBC, etc. in very simple Japanese.
News provided by NHK NEWS WEB EASY, CNN, MBC, etc. always updated so you don't miss anything.
A huge database of 31076 Japanese articles, 173,386 vocabularies, 6355 kanji, 169,736 examples, and more than 2,000 grammar will help you master Japanese.
+ Listen to audio: adjust the speed of the audio, change the reading voice.
+ Watch the video: practice listening and learning Japanese culture.
+ Translate article: you can practice translating the article yourself or consult other users' translations.
+ Listen and repeat practice listening and pronunciation skills.
+ Word review: see the list of words in the article, practice with the flashcard.
+ Dictionary: search for any vocabulary in the article.
+ Difficult News: Challenge yourself with advanced articles.
+ JLPT: Take the full level test, standard test with the structure like a real exam.
+ Music video: learn Japanese with music.
+ Offline mode: learn Japanese offline, you can read news events that do not have a network. This will reduce the cost of the 3G / 4G connection.
Supported Android
(4.1 and up)
KitKat (4.4 - 4.4.4),Lollipop (5.0 - 5.1.1),Marshmallow (6.0 - 6.0.1),Nougat (7.0 – 7.1.1),Oreo (8.0-8.1), Pie(9.0)
Download EASY JAPANESE NEWS やさしい日本語ニュース 3.7.5 Premium APK